*UPDATE* Sorry--I had to tweak my photobucket. It's been a while and I forgot how to use it. That's sort of why I'm trying out this post here rather than somewhere else....



I sort of dabble a bit in polymer clay (brand names: Fimo, Premo, KatoClay, etc.). I was going to post a few things I've done, but I thought I'd put up a series of pictures from start to finish to show how I make the particular things I make (polymer clay quilt jewelry). So without further ado:

So, I picked the "Crown of Thorns" quilt pattern for this one. It's fairly easy, since it's just right triangles and squares. I'm not overly fond of browns, so I'm going to do it in black and white (with a touch of red).

Here's the quilt (from the book, "Quilts from the Bible" by Oxmoor House:




And here's a schematic for the quilt, which helps immensely in breaking down the component parts:




I primarily use Fimo Classic, since it is a very firm clay that holds detail well in the reduction process ("The reduction process?" you say? All in good time....):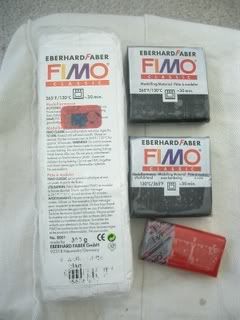 I've worked the clay a bit so it is good and pliable--this is the point in which I would mix colors together if the packaged color wasn't exactly what I wanted. In this case, I want white and black, so there ya go. I've shaped the clay into logs--about an inch square or a little larger and a couple of inches long. I'm not anal about the measuring process--approximations work for me at this stage: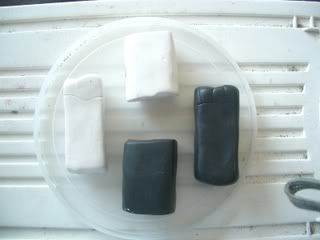 I stand each square log on end and slice through on the diagonal--leaving me with two right triangles. I've also flattened a smaller piece of red--I'm going to put it in between the triangles for a spot of color: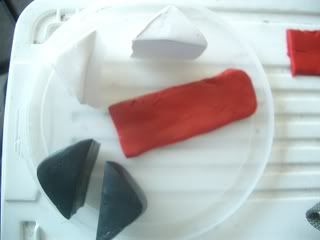 Here's the end result of the first component: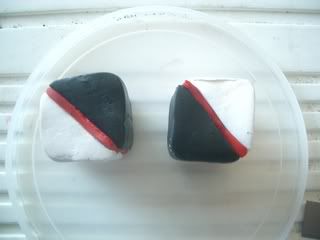 At the top of the picture is the first component that's been reduced. Reducing is the process of compressing and stretching the block of clay. As you can see it is quite bit longer and quite a bit smaller around. Compare it to the unreduced component directly below it. Oh, and the rigid metal blade is what I use to slice the clay into it's proper shapes and sizes:




Okay, here are both of the first components reduced--one is flipped:




And here I've pressed them together:




That's all well and good, but I need four triangle units together. And so, I slice my stack in half: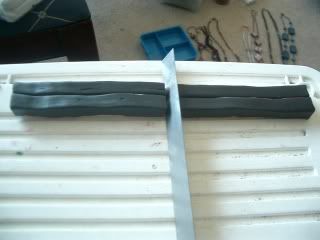 The end result:




Now I'm ready for the second component. It's simply two square logs (one white, one black) pressed together




I need to get them to the same proportion: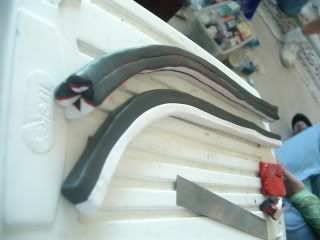 The next step is to cut each component into the four pieces:




And, it's time to start assembling the final block (oops! I forgot--I need the center square. A simple block of white):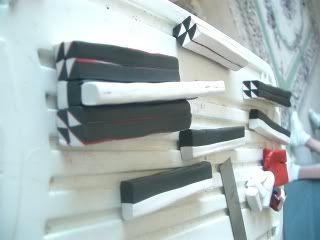 Here's the finished block--the log is a couple of inches long and about an inch and a half square: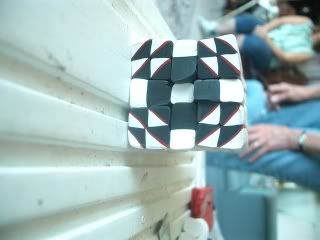 Throughout the reduction process, there is always some waste on the ends. I simply slice it off and use it for something else. Here's a picture of the cane reduced a bit (one end is clean, the other hasn't been sliced off and is quite distorted):




*sigh* I keep forgetting to take pictures of some of the steps. Here I've further reduced the cane and sliced it into nine pieces (I'm making a somewhat smaller quilt design than the one from the book) and I'm starting to add some plain white square logs and triangles to fill out the space:




Here it is finished except for the borders (and I'm going to reduce it a bit more):




...with borders (it's about three inches square and not quite two inches tall):




AND the finished cane. TA DA!


(Final Size: 1 1/2 inches square; about four inches long)


So, what to do with it...well, I have to think. In the meantime here's a few of things from other canes I've made: